Første beretning i en serie om brugen af computerspil i undervisningen, både i skolen og hjemme.
Det hele begyndte med at junior en aften udbrød "Far, jeg elsker musikken i Battle for Wesnoth. Kan vi ikke brænde en CD med den, som vi kan høre i bilen?". Battle for Wesnoth er et open source strategispil, og jo, det kunne vi da godt.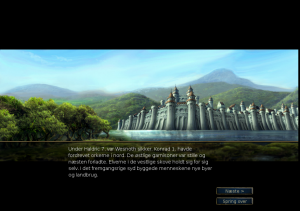 Vi fandt frem til mp3'erne (.ogg'erne) og spillede et par af dem.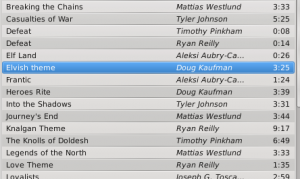 Musikken er komponeret af forskellige professionelle komponister, som har taget computerspillet til sig og bidrager til det på den måde. Vi fandt nogle af komponisterne på nettet, og skrev til en af dem, Doug Kaufmann. Junior dikterede, jeg oversatte til engelsk, hvorefter han tastede ordene ind.
Doug var hurtig til at svare, om morgen kunne vi i min indbakke læse:
Thank you Junior (and Nicolas). I'm glad you enjoy the Wesnoth music – thanks for taking the time to send me a note!
Are you learning to play music yourself? -Doug
Hm, næ, vi spiller ikke så meget musik hjemme hos os. Vi synger lidt, men det er det bliver til. Da jeg senere på dagen hos min svigerinde opdagede, at hun havde pakket sit elektroniske keyboard sammen, spurgte jeg hende om vi ikke kunne låne det. Joda, gerne. Vi satte vores nye "klaver" op midt i stuen, og begyndte at lege med noderne.
Et par dage senere foreslog min hustru, at Junior kunne spille "Happy Birthday" til sin farfars 60 års fødelsdag. Yes! Hver aften øvede han sig, og 5 dage senere spillede han for første gang på et koncerflygel. Farfar var rørt til tårer. Juniors oplevelse af det var "Papa, j'adore jouer au piano!".
Til Doug skrev han:
Dear Doug,
I am very happy :-D that you gave me the idea to play the piano. I love :-D to play the piano.
Thank you.
Og nu er det snart tid til julesange