Kære alle
Så blev året skudt godt i gang.
Skolen vokser støt og planmæssigt med sine ca. 10% om året. Som organisation er skolen mere moden end nogensinde, med en efterhånden meget stabil og velkoordineret personalegruppe, en bestyrelse af professionnel kaliber, spædt men accelererende renommé både nationalt og internationalt og en engageret forældregruppe.
Vi har således budt en række nye børn velkommen. Velkommen til: Kalle, Nanna, Hazim, Hannah, Hanaa, Nestor, Maxime, Simon og Martha.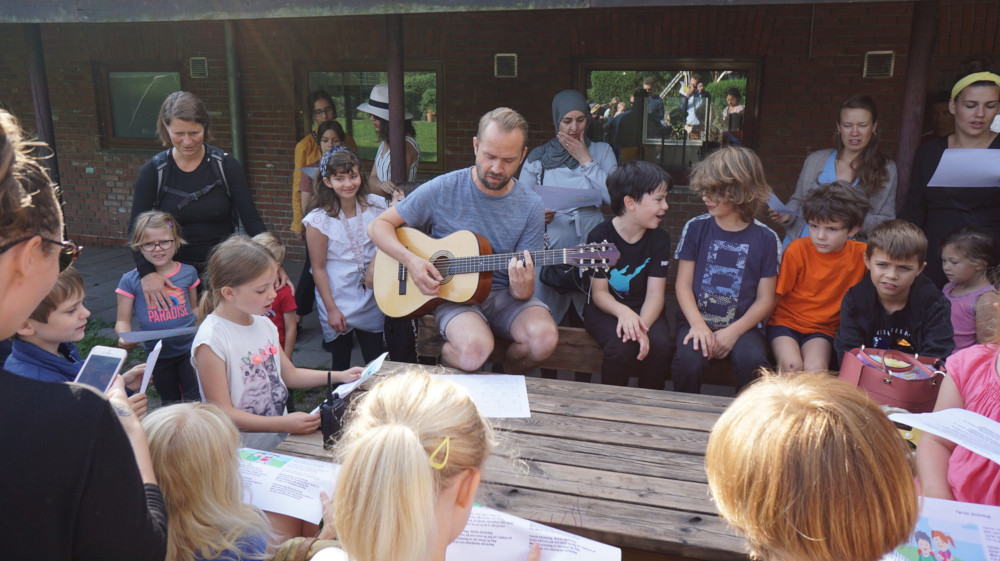 Vi har også måtte sige farvel til nogle børn, der enten er flyttet eller af logistikmæssige årsager har valgt en skole tættere på hjemmet. Det hænger til dels sammen med det at være en skole med international appel, men det føles som et tab hver gang; vi lægger som personale meget energi i de relationer vi opbygger med børnene – meget autentisk, men også så meget desto mere smertefuldt, når man skal sige farvel.
Forældregruppen (Niels og Hana) havde for andet år i træk arrangeret en vildmarkscampingtur til Sverige. Igen i år var det en fantastisk oplevelse, hvor vi ovenikøbet var så heldige at have perfekt vejr. Sverigesturen begynder allerede at føles som en tradition – og alletiders lejlighed til at gense familier, der tidligere har gået på skolen.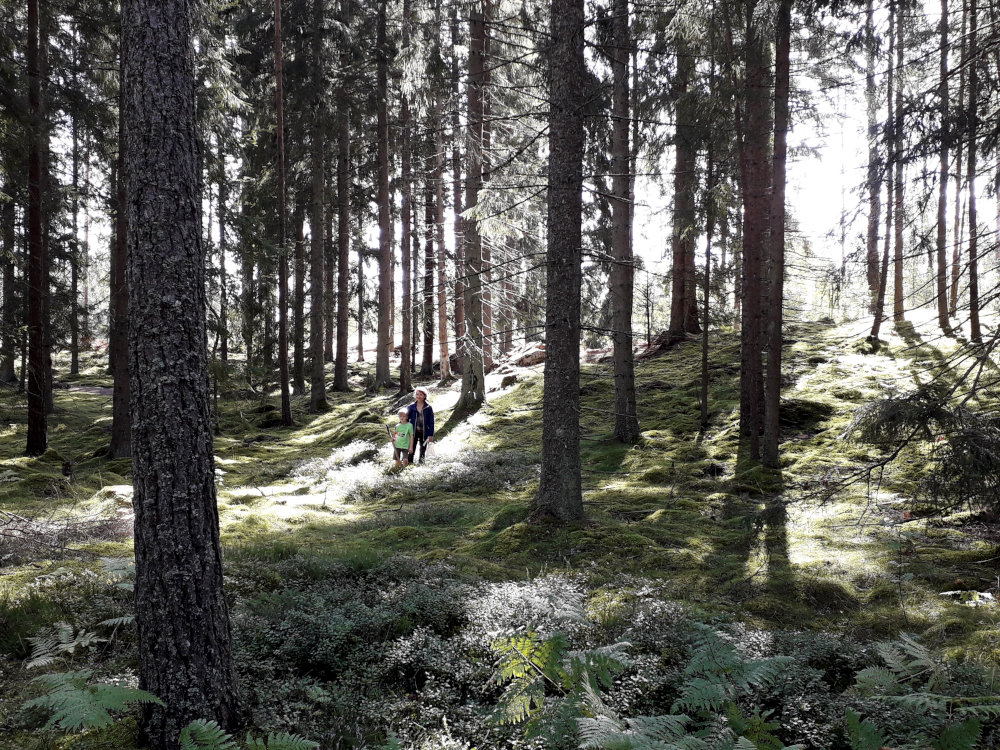 I løbet af sommeren blev vi kåret som vindere af The Ultimate Arduino Challenge – en verdensomspændende elektronikkonkurrence for professionnelle ingeniører. Det var lidt uhørt, at en skole skulle vinde den, men vores Dark Side Challenge koncept løb altså med førsteprisen. Konceptet går ud på at undervise i at kombinere maskinel intelligens med menneskelige beslutningspunkter, en færdighed der ofte anses for at være den mest eftertragtede i (morgen)dagens samfund.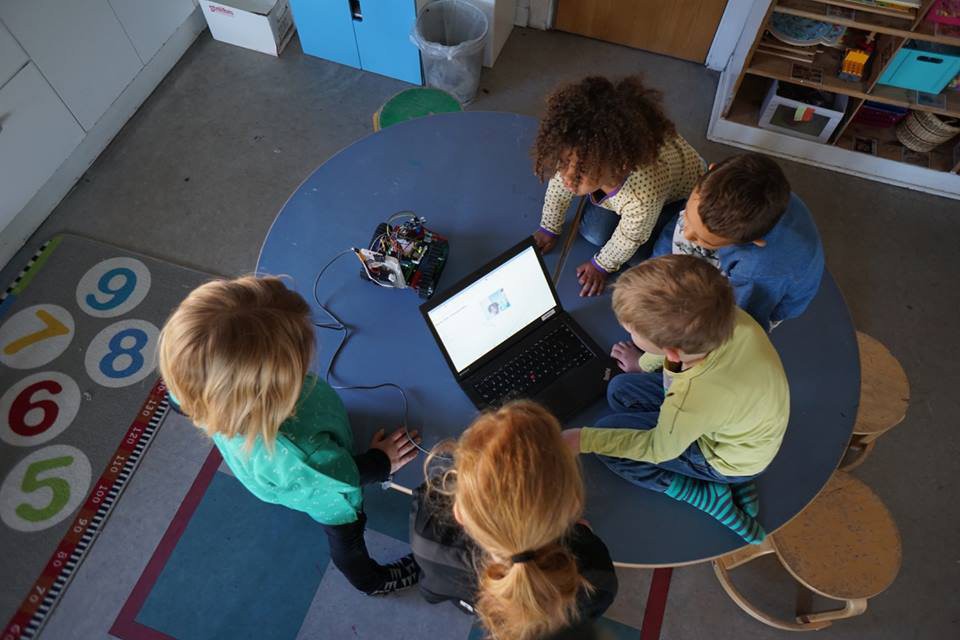 I den sammenhæng vandt vi en tur til Italien, hvor vi i efterårsferien skal besøge Arduinos udviklings- og produktionsfaciliteter i Torino og har fået en 50m² demonstrationsstand på Europas største innovationsevent – Maker Faire Rome. Det bliver også ilddåben for vores nye "Flying Hacker Lab", et pop-up værksted til at undervise i STEM på en sjov og vedkommende måde.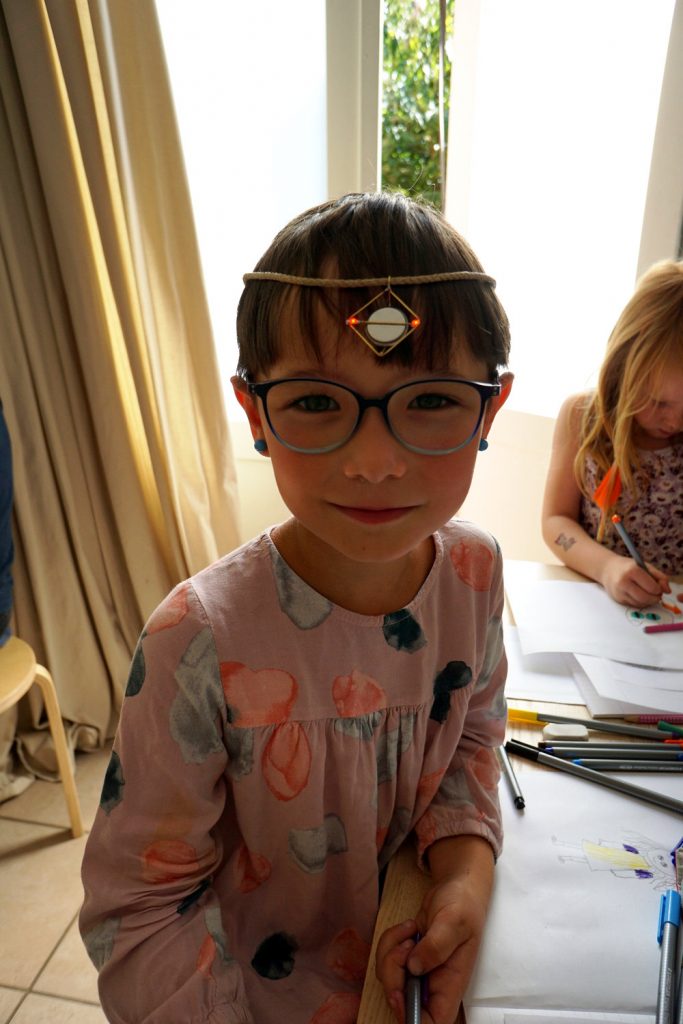 Hacker lab'et finansieres til dels af midler, vi har fået fra Ellehammerfonden (kr. 13000,-) og fra Villumfonden (kr. 115000,-). Fondsmidlerne bruger vi desuden til at sponsorere, at hvert barn på skolen kan få sin egen selvbyggede robot. Dette er i forlængelse af vores modelmorsprojekt, som er en del af Teknologipagten.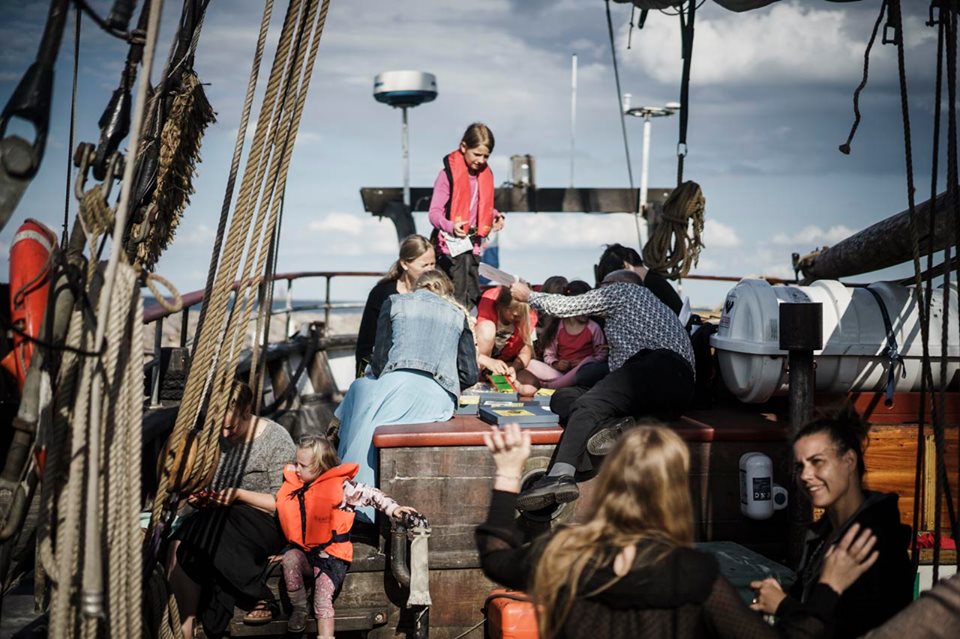 Det foregår ved, at børnene skriver sig på en liste ved siden af 3D-printeren. Derefter får de udleveret et chassis, som de bygger, 3D-printer de resterende dele, tilføjer elektronikken og endelig programmerer den til at kunne fjernstyres. Vi kan røbe, at det har givet begrebet printerkø en helt ny betydning!
Der har været lidt naturlig udskiftning i bestyrelsen og Eduardo blev valgt som ny formand. Eduardo er højesteretsadvokat og det er ganske praktisk, da skolen som bekendt for tiden er under skærpet tilsyn. Seneste udmelding fra tilsynsstyrelsen var, at tilsynet forventes afsluttet i december. Om ikke andet må man rose det danske embedsværk for dets ihærdighed og dets vedholdenhed.
På personalesiden sker der også en del. Nathalie tager lige om straks på barsel og hendes timer vil mestendels blive dækket af Anne Sophie. Vi har fået en ny musiklærer, Niels Dalum. Niels er professionnel bratschspiller, har undervisningserfaring og interesserer sig for at skabe elektronisk musik.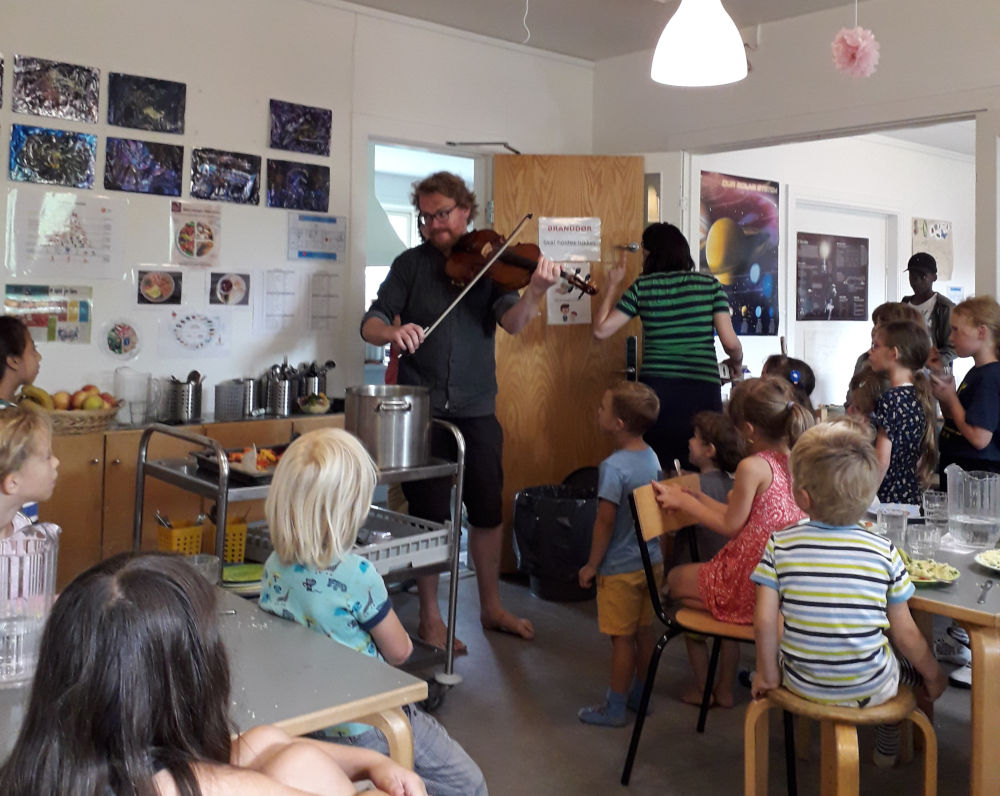 Bruno er stoppet som idrætslærer, da han har fået barn og er travlt optaget på Prins Henriks Skole. Stefan er trådt til i stedet. Husk at idræt starter 8:20 om onsdagen for de små.
Til Naturens Dag (organiseret af Line), mødte vi knudeteoretikeren Adam Eppendahl, som lærte børnene at klatre i træer med reb – en aktivitet vi kommer til at dyrke en del fremover i de træer, der ligger i nærheden af skolen.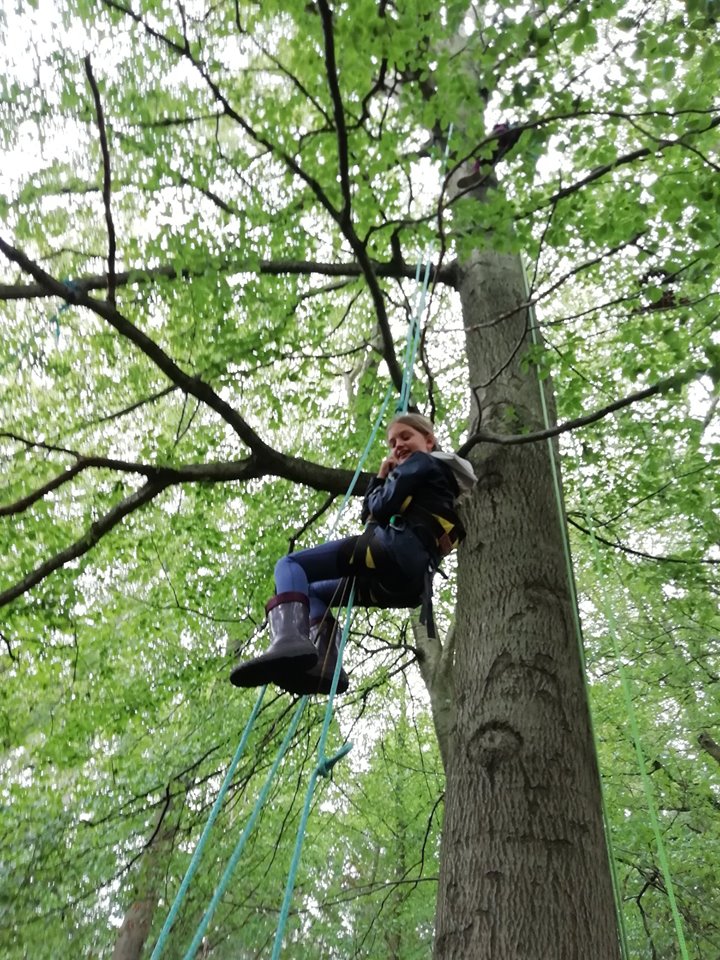 I børnehaven lærer børnene for tiden tegnsprog. Vi lærer simple begreber ift. hverdagssituationer og synger sange med tegn. På den måde bliver børnene mere opmærksomme på den, der har ordet. Børnene kan f.eks. nu hurtigt og effektivt informere om, at de går på toilettet, mens den ansvarlige voksne er optaget af noget andet. Frugttiden bliver også sjovere og mere afslappende.
I oktober vil der være tema om klassisk musik.
Sidste års 9. klasses elev Sacha afholder et dronekursus, som kommer til at ligge fast om tirsdagen kl. 15:45. Han er som så ofte før prøveklud for nye tiltag – denne gang at vi prøver at bevare relationen til tidligere elever ved at tilbyde dem et studiejob på skolen.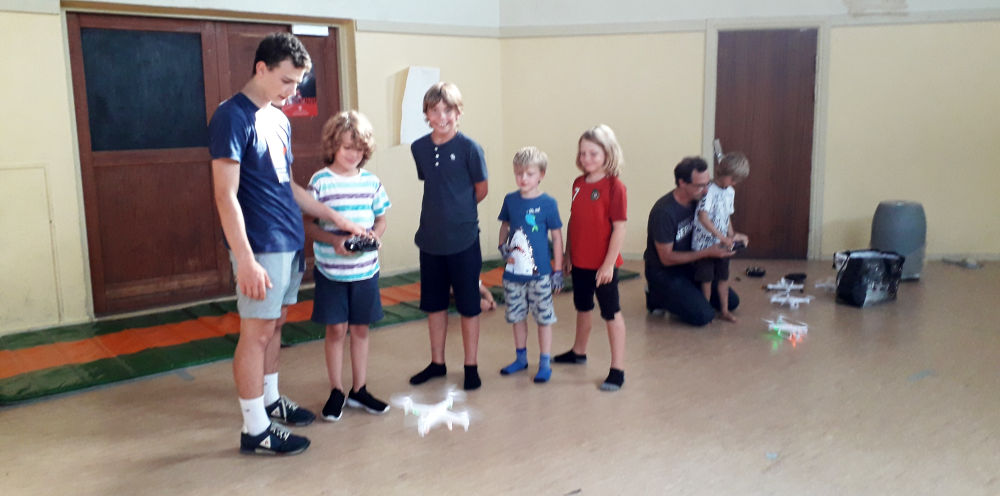 Han har også været i gang med en større istandsættelse af brugte laptops, som han har installeret GNU/Linux på til brug på skolen. I fald nogle af forældrene er interesserede, sælger skolen nu sådanne laptops (Lenovo T440) til kr. 2000,-.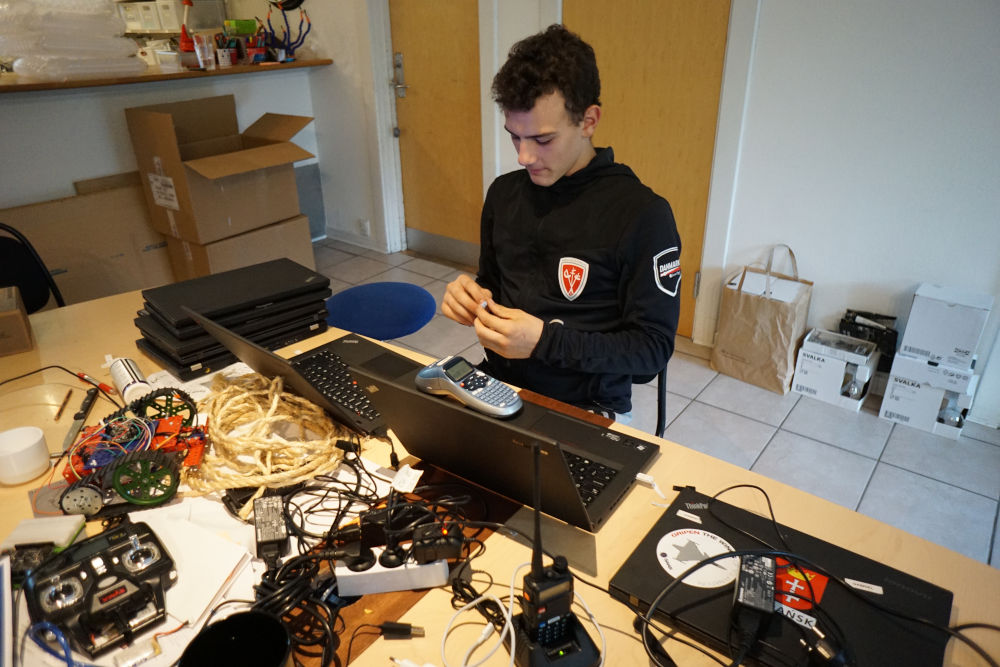 Til de nye forældre minder vi om, at børnehaven og skolen har en noget uortodoks tilgang til støj i den forstand, at vi praktiserer kunsten at lytte, hvilket forudsætter ro. Det betyder konkret, at man lige skal orientere sig i det sociale rum man træder ind i og tilpasse sit stemmeleje derefter, børn som voksne. Husk, at det er skolens regler, der gælder, når man er på skolen.
Skoledagen starter som bekendt klokken 9.00 med morgenmøde i børnehaven. Vi vil opfordre til, at alle børn er på skolen til tiden, da vi meget gerne vil undgå unødige forstyrrelser under mødet. Skal børnene have mulighed for at vinke farvel, sætter vi derfor stor pris på at dette gøres inden klokken 9.00.
Husk også, at udendørs sko ikke er tilladt indendørs ud over i garderoberne. Det bliver særligt vigtigt her til efteråret/vinter.
Aktivitetskalender
10/10 15:00 : Fernisering af billedkunstudstilling
14-21/10: Tur til Italien
23/10 16:30 : Forældremøde
25/10 : Overnatning på skolen (Cadisha og Line)
4-15/11 : Skole-hjem samtaler
13/12 : Santa Luciaoptog
20/12 : Juleafslutning